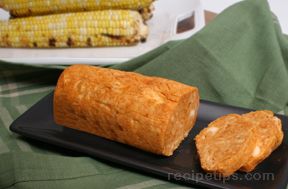 Directions
Blend butter, paprika, garlic, sugar and salt in a food processor until smooth.
Form the mixture into a log shape and wrap in plastic wrap.
Refrigerate until very cold. Can be made a day ahead.
Preheat grill to medium high heat.
Husk corn and remove all silks.
Boil corn in a large pot of salted water for approximately 5 minutes.
Remove from water and drain.
Place corn on the grill, turning occasionally, for approximately 5 minutes.
Serve with slices of paprika butter.
Prep Time: 10 minutes
Cook Time: 10 minutes
Container: grill
Servings: 10


Ingredients
-
1 cup unsalted butter, softened
-
2 teaspoons smoked paprika
-
1 clove garlic, chopped
-
1/2 teaspoon sugar
-
1 pinch salt
-
20 ears of fresh sweet corn