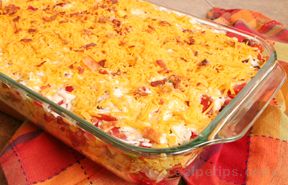 Directions
Prepare cornbread according to directions on package or on any cornbread recipe for an 8 inch square of cornbread. Bake, cool and crumble, using approximately 4 1/2 cups for the recipe.
In a small bowl, mix together dry salad dressing mix, mayonnaise and sour cream. Set aside.
Chop and cut tomatoes into medium-sized chunks.
In a large bowl, combine beans, fresh cooked canned or frozen corn, onion, green pepper, red pepper, and tomatoes.
Crumble cornbread into small bits. In serving dish, or serving container, begin by layer 1/2 of cornbread over bottom of dish. Then layer 1/2 of vegetables mixture, 1/2 of the shredded cheese, and 1/2 of bacon. Spread 1/2 of dressing evenly over ingredients.
Repeat layering with the second half of all ingredients, finishing with dressing and spreading evenly over the dish. Garnish top with shredded cheese and bits of bacon.
Cover tightly and refrigerate for several hours or overnight. When the flavors are allowed to blend overnight, the salad becomes more moist and flavorful.
Prep Time: 30 minutes
Cook Time: 30 minutes
Container: 9 x 13 serving dish or 3 quart container
Servings: 8
Serving Size: 1 piece


Ingredients
-
4 1/2 cups cornbread mix, use an 8.5 oz package
-
1 package (.4 oz) envelope of dry ranch style salad dressing
-
1 cup sour cream, light or regular
-
1 cup mayonnaise, light or regular
-
16 ounces black beans or pinto beans, drained
-
3/4 cup sweet onion, chopped fine
-
1 cup sweet green bell pepper, chopped
-
1 cup sweet red bell pepper, chopped
-
large red ripe tomatoes, cut into pieces
-
2 cups frozen corn kernels, thawed
-
slices bacon, cooked crisp and crumbled
-
2 cups cheddar cheese, shredded