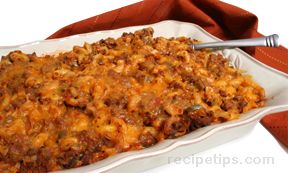 Directions
Cook macaroni according to package directions; drain and set aside.
Heat oil in a large skillet.
Add the peppers, onion and garlic.
Sauté until soft.
Add the ground beef and sauté until browned.
Add the tomatoes, salt and pepper to taste.
Add to that the basil, cumin and oregano.
In a large bowl (or in the skillet) combine the macaroni and the beef mixture.
Spread it all in a 9x13 baking dish.
Top with cheese and bake 20-25 minutes in a 350° F oven or until cheese is browned and bubbly.
Cooks Note: May substitute ground turkey or chicken in place of the beef if desired.
Before adding the tomatoes to the beef mixture, drain off the fat and then place the beef back into the skillet.
Prep Time: 15 minutes
Cook Time: 25 minutes
Container: large saucepan, 9x13 baking dish, large skillet
Servings: 12


Ingredients
-
1 pound elbow macaroni
-
2 tablespoons vegetable oil
-
2 cups chopped green bell pepper
-
2 cups chopped onion
-
1 tablespoon chopped garlic
-
2 pounds lean ground beef
-
3 cups canned crushed tomatoes
-
salt and pepper to taste
-
1 teaspoon dried basil
-
1 teaspoon dried cumin
-
1 teaspoon dried oregano
-
3 cups grated cheddar cheese - or cheese of choice