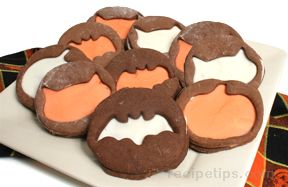 Directions
In a large bowl, cream the butter and sugar.
Add milk, vanilla and egg, mix well.
Add flour, cocoa, melted chocolate, baking powder and baking soda. Blend until smooth.
Divide dough into two and wrap each in plastic wrap. Refrigerate for 2 hours.
Preheat oven to 350°.
Roll out one of the dough portions onto lightly floured surface to approximately 1/8 inch thick.
Using an approximate 2 1/2 inch round cookie cutter, cut as many rounds from the dough as possible.
Place on an ungreased cookie sheet.
Cut out center of half of the cookies with any Halloween shaped 1-inch cookie cutter.
Bake all for approximately 10 minutes or until set.
Remove from cookie sheet and cool on a wire rack.
Repeat until all of the dough has been used.
While cookies are cooling, make the frosting.
Combine powdered sugar, butter and vanilla in a small bowl. Mix on low speed and gradually add the milk until the frosting is the consistency you like.
Add any color of food coloring desired and mix.
Spread 2 teaspoons of frosting on each cookie bottom, top with cut-out cookie.
Allow to sit before serving.
Prep Time: 20 minutes
Cook Time: 30 minutes
Servings: 36


Ingredients
-
1 cup butter, softened
-
1 cup granulated sugar
-
1/4 cup milk
-
1 teaspoon vanilla extract
-
1 large egg
-
2 3/4 cups flour
-
1/4 cup unsweetened cocoa
-
1 square unsweetened baking chocolate, melted and cooled
-
3/4 teaspoon baking powder
-
1/4 teaspoon baking soda
-
FROSTING
-
4 cups powdered sugar
-
1/2 cup butter, softened
-
2 teaspoons vanilla
-
2 tablespoons milk
-
Food coloring of choice