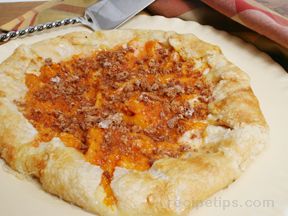 Directions
Preheat oven to 400°.
Blend almond paste and 3 tablespoons of sugar in processor until finely chopped.
Add cream cheese, egg yolk and vanilla.
Blend until smooth.
Unroll crust on baking sheet.
Spread cream cheese filling over crust, leaving 1 1/2 inch border around edge.
Arrange apricot quarters, rounded side down, in spoke pattern in two circles on top of filling.
Fold dough border up and over the edge of the filling and apricots.
Brush exposed apricots with warm jam.
Sprinkle with 1 1/2 teaspoon sugar. (May brush outside crust with eggwhite.)
Bake crostata until the crust is golden brown and the apricots are tender and slightly brown, 40-45 minutes.
Place on wire rack to cool.
Sprinkle with crushed amoretti cookies.
Cool for 30 minutes.
Serve warm or at room temperature.
Cooks Note: This recipe is made with Archway Amoretti cookies (3 crushed).
Almond paste can be found in the baking section of most grocery stores.
Prep Time: 20 minutes
Cook Time: 45 minutes
Container: baking sheet
Servings: 8


Ingredients
-
3 1/2 ounces almond paste
-
3 1/2 tablespoons sugar, granulated -divided
-
3 ounces cream cheese - cut into cubes
-
1 large egg yolk
-
1 teaspoon vanilla extract
-
1 pre-made refrigerated pie crust at room temperature or your favorite pie crust recipe
-
6 apricots - large, quartered, pitted
-
1/4 cup apricot jam - heated
-
3 crushed amoretti cookies (Italian Macaroons)