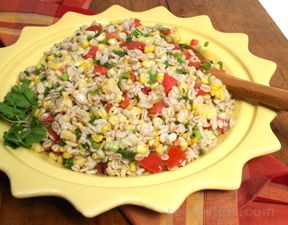 Directions
Follow direction on box for cooking barley. Barley should be firm, drain and rinse with cold water, let cool. Transfer barley to a large bowl.
Add corn, green onions, tomato, jalapenos and cilantro. Toss to combine ingredients.
Puree garlic, vinegar and cumin in food processor. With machine running, slowly add oil in a thin stream until combined. Season with salt and pepper.
Pour dressing over salad and toss.
Prep Time: 30 minutes
Cook Time: 10 minutes
Container: Large bowl
Serving Size: 1 cup


Ingredients
-
1 cup barley (instant)
-
2 cups fresh corn, cut of cob (3 or 4 medium ears of corn)
-
1/2 cup thinly sliced green onions
-
1 large tomato, peeled or unpeeled, chopped
-
1 1/2 fresh jalapeños, seeded, minced
-
1/4 cup fresh cilantro, minced
-
DRESSING:
-
2 cloves garlic, peeled
-
3 tablespoons white wine vinegar
-
1/2 teaspoon ground cumin
-
1/3 cup olive oil
-
salt and pepper
-
*May substitute a 10 oz. package of frozen corn, cooked and drained.