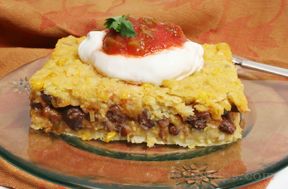 Directions
Preheat oven to 350 degrees
Spray a 7 x 11 baking dish with nonstick cooking spray. Purée corn briefly in a food processor. Combine puréed corn, stock, masa harina, creamed corn, baking powder and butter in a bowl, set aside.
Combine black beans, cumin, chili powder, garlic powder, cayenne, oregano, tomato purée and green chilies in a large bowl.
Spread 2/3 of masa corn mixture in bottom of prepared baking dish.
Layer bean mixture and then cheese. Top with remaining masa corn mixture.
Bake for 1 hour. Serve with Salsa.
Prep Time: 15 minutes
Cook Time: 1 hour
Container: 7 x 11 baking dish, large bowl
Serving Size: 2 tablespoons


Ingredients
-
2 cups 4 ears of corn, cooked, cut off cob
-
1 cup chicken or vegetable stock
-
1 cup masa harina
-
1 can (16 oz.) canned creamed corn
-
1 teaspoon baking powder
-
2 tablespoons unsalted butter, melted
-
2 cans (15 oz. ea.) black beans, rinsed and drained
-
1 teaspoon ground cumin
-
1 teaspoon chili powder
-
1/4 teaspoon garlic powder
-
pinch cayanne pepper
-
1/2 teaspoon oregano
-
1/4 cup tomato puree
-
1 can (4 1/2 oz.) diced green chilies
-
2 cups cheddar cheese, shredded