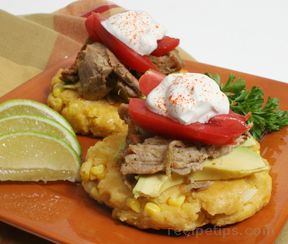 Directions
Spiced Shredded Pork
Preheat broiler.
Combine pork, stock, half of the onions, jalapeno, cilantro, cumin, bay leaf and 1/2 teaspoon of the salt in medium saucepan.
Bring to a boil.
Cover, reduce to a simmer.
Cook until pork registers 140° on an instant read thermometer. (Approximately 10-15 minutes). The meat will be slightly pink in the middle but very tender.
Transfer the meat to a cutting board.
Shred the meat into 2 inch peices with two forks. (Discard water from saucepan).
Put meat on a baking sheet, add the rest of the chopped onions.
Melt the butter, mix the butter with olive oil and pour over the meat and onions.
Season with salt and pepper.
Broil until golden brown (7-10 minutes).
Watch carefully, stir occassionally.

Mexican Corn Cakes
Whisk together masa harina, flour, baking powder and salt in a large bowl.
Stir in corn and cheese.
Add 1/4 cup water at a time, stirring after each addition until mixture holds together. (Usually takes approximately 1 cup total.)
Heat 1/4 c oil in fry pan or cast iron skillet over medium heat until hot but not smoking.
Meanwhile, shape 1/3 cup of mixture with your hands to form a patty that is approximately 1/3 inch think.
Repeat with remaining mixture, making 8 patties.
Working in batches of 4, fry patties, turning once, until golden brown. This takes approximately 2-4 minutes per side.
Using a slotted spoon, transfer to a paper towel to drain.
If pan becomes dry, add more oil as you go.
Cover patties with foil to keep them warm until ready to serve.

Assembly
Top each corn cake with 3 avocado slices, a heaping 1/3 cup pork, 2 tomato wedges and 1 tablespoon sour cream.
Garnish with cilantro.
Prep Time: 15 minutes
Container: medium saucepan and baking sheet
Servings: 4


Ingredients
-
1 pound pork tenderloin
-
29 ounces low sodium chicken stock (2 cans 14.5 oz)
-
2 small onions, finely chopped
-
1/2 fresh jalapeno chili with seeds, finely chopped, or 4-6 canned jalapeno rings
-
1/2 bunch fresh cilantro 21/2-3 cups plus a frew sprigs for garnish
-
1/4 teaspoon ground cumin
-
1 bay leaf
-
coarse salt and pepper to taste
-
2 tablespoons unsalted butter, melted
-
1 tablespoon olive oil
-
1 avocado, halved, peeled, thinly sliced, sprinkled with lemon juice to keep it from turning brown.
-
Mexican Corn Cakes
-
1 1/2 cups masa harina
-
1/2 cup all purpose flour
-
1 teaspoon baking powder
-
1/2 teaspoon coarse salt
-
1/2 cup grated cotija cheese (can substitute shredded parmesan cheese)
-
2 cups coarsely chopped fresh or frozen corn kernals (approximately 2 large or 3 medium fresh sweetcorn)
-
1 cup warm water - use only as much as needed
-
6 tablespoons vegetable oil for frying