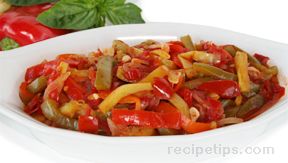 Directions
Chop onion finely, slice garlic and cut peppers into strips or dice, as preferred.
Heat olive oil in a large skillet. Add onions, salt and pepper lightly, and saute 5 minutes, stirring occasionally. Add garlic and peppers, cook 5 minutes. Add tomatoes and herbs (save a few bits of herbs for garnish, if desired), cover and simmer until peppers are very soft; 15 - 20 minutes. Remove lid, raise heat and cook until any excess liquid has evaporated. Add salt and pepper to taste.
Serve warm or room temperature.
Prep Time: 10 minutes
Cook Time: 45 minutes


Ingredients
-
2 tablespoons olive oil
-
1 large onion
-
2 cloves garlic, or more if preferred
-
2 red bell peppers, medium size
-
2 yellow bell peppers, medium size
-
1 green bell pepper, medium size
-
2 cups chopped tomato with juice, fresh or canned
-
1 tablespoon chopped fresh herbs - basil, oregano, or parsley (or a mixture)
-
salt and pepper