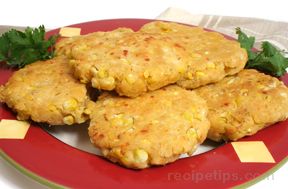 Directions
Whisk together masa harina, flour, baking powder and salt in a large bowl.
Stir in corn and cheese.
Add 1/4 cup water at a time, stirring after each addition until mixture holds together. (Usually takes approximately 1 cup total.)
Heat 1/4 c oil in fry pan or cast iron skillet over medium heat until hot but not smoking.
Meanwhile, shape 1/3 cup of mixture with your hands to form a patty that is approximately 1/3 inch think.
Repeat with remaining mixture, making 8 patties.
Working in batches of 4, fry patties, turning once, until golden brown. This takes approximately 2-4 minutes per side.
Using a slotted spoon, transfer to a paper towel to drain.
If pan becomes dry, add more oil as you go.
Cover patties with foil to keep them warm until ready to serve.
Prep Time: 5 minutes
Cook Time: 10 minutes
Container: Large bowl, fry pan
Servings: 8


Ingredients
-
1 1/2 cups masa harina
-
1/2 cup all purpose flour
-
1 teaspoon baking powder
-
1/2 teaspoon coarse salt
-
1/2 cup grated cotija cheese (can substitute fresh grated parmesan cheese)
-
2 cups coarsely chopped fresh or frozen corn kernels. Approximately 2 large ears of corn.
-
1 cup warm water - use only as much as you need
-
5 tablespoons vegetable oil for frying