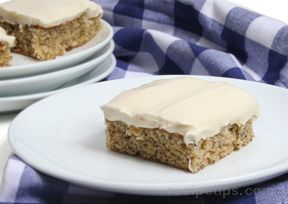 Directions
BARS:
Lightly grease a 15" x 10" x 1" baking pan and set aside.
Cream the margarine and sugar together in a large mixing bowl.
Add eggs, bananas and vanilla and beat until well blended.
Add the flour, baking soda, and salt. Beat mixture just enough to combine all ingredients evenly.
Pour into the greased 15" x 10" x 1" baking pan, spread evenly and place in an oven preheated to 350° F.
Bake for 25 minutes or until a toothpick inserted in the center comes out clean.
Cool bars before frosting.
FROSTING:
Cream margarine and cream cheese.
Gradually add the powdered sugar and vanilla. A little more powdered sugar can be added if a firmer frosting is desired.
Spread frosting evenly over the cooled bars.
Cut the bars into squares.
Prep Time: 45 minutes
Cook Time: 25 minutes
Container: 15
Servings: 35


Ingredients
-
BARS:
-
1/2 cup margarine - softened
-
2 cups sugar
-
3 eggs
-
1 1/2 cups mashed ripe bananas
-
1 teaspoon vanilla
-
2 cups flour
-
1 teaspoon baking soda
-
Pinch of salt
-
FROSTING:
-
1/2 cup margarine - softened
-
1 8 oz. package of cream cheese - softened
-
4 cups powdered sugar
-
2 teaspoons vanilla