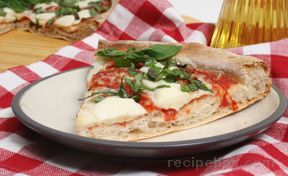 Directions
Preheat grill or preheat oven to 400°.
Spread sauce on prebaked pizza crust.
Top with cheese.
Place pizza on grill.
Close cover of grill and grill for approximately 10 minutes, turning occasionally, or until sauce is hot and cheese is melted.
Drizzle with olive oil.
Sprinkle with basil and serve.
Can also be cooked in a 400­° oven.
Prep Time: 10 minutes
Cook Time: 10 minutes
Container: cookie sheet


Ingredients
-
1 12 inch prebaked pizza crust
-
1 cup tomato and basil sauce
-
4 ounces fresh mozzarella cheese, thinly sliced
-
2 tablespoons extra virgin olive oil, or more if desired
-
1/4 cup fresh chopped basil