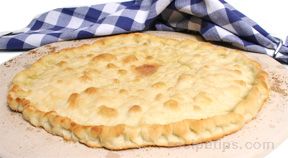 Directions
In a small bowl, whisk yeast and water until yeast is completely dissolved. Set aside.
In a food processor, process the flours, salt and sugar for approximately 5 seconds.
With the machine running, slowly add liquid through the top feed slot. Continue to process until the dough forms a sticky ball and pulls away from the sides of the processor, approximately 1 /12 - 2 minutes.
If the dough is too sticky, add 1-2 teaspoons of flour, if it is too dry, add 1-2 teaspoons of water.
Divide dough into two equal portions and shap into smooth balls.
Place on a floured surface not closer than 5 inches apart.
Cover loosely with plastic wrap that has been coated with nonstick cooking spray.
Let rise until they have doubled in size, approximately 1 hour.
Preheat oven to 500°. Place rack on the lowest setting and place the pizza stone onto it to preheat as well.
Dust the dough with flour.
Using the palms of your hands, press the dough into an 8 inch disk. Working along the outside edges, stretch the dough into a 12 inch circle.
Transfer circle to the preheated pizza stone.
Bake for approximately 5 minutes or until golden brown.
Cool completely or add your favorite pizza toppings.
Prep Time: 1.5 hours
Cook Time: 5 minutes
Container: pizza stone
Serving Size: 1 slice


Ingredients
-
1 1/4 teaspoons instant yeast
-
1 cup room temperature water
-
1 3/4 cups all purpose flour
-
1 cup cake flour
-
1 1/2 teaspoons salt
-
2 teaspoons sugar