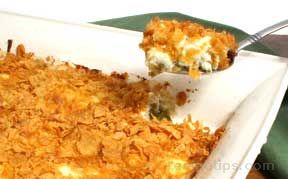 Directions
In pan over medium-low heat, melt butter.
Add onion, cook for about 30 seconds.
Stir in flour, salt, pepper and sugar, blend well. Continue cooking and stir until bubbly, stir in sour cream and cook for about another minute.
Spread beans over bottom of buttered casserole dish.
Sprinkle shredded cheese over green beans then pour sour cream sauce evenly over.
Top with crushed corn flakes, dot with butter or margarine.
Bake at 400 degrees for 20 minutes.
Prep Time: 10 minutes
Cook Time: 20 minutes
Container: 11 x 7 x 2 baking dish, saucepan
Serving Size: cup


Ingredients
-
2 cans drained french cut green beans
-
8 ounces mozzarella cheese, shredded
-
2 tablespoons butter
-
2 tablespoons flour
-
2 teaspoons onion, grated
-
1 teaspoon salt
-
1/4 teaspoon pepper
-
1 teaspoon sugar
-
1 cup sour cream
-
cup corn flaked, crushed
-
2 tablespoons butter or margarine