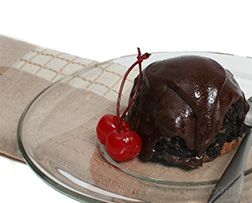 Directions
Mix chopped cherries into ice cream. Scoop ice cream mixture into 6 balls using ice cream scoop (may make smaller individual balls). Roll in crushed cookies. Place on waxed paper lined cookie sheet and freeze until firm, about 3 hours.
In small saucepan, melt chocolate chips with oil, stir until smooth, cool.
Place cookie coated ice cream balls on wore rack over a cookie sheet or waxed paper. Spoon melted chocolate over each ball, coating tops and sides. Freeze again until firm, at least 1 hour.
Remove from freezer about 10 minutes before serving.
Prep Time: 10 minutes
Cook Time: 5 minutes
Container: cookie sheet, bowl for mixing
Serving Size: 1 piece


Ingredients
-
3 cups chocolate ice cream (or gelato)
-
1 cup frozen, pitted cherries, thawed, chopped or fresh cherries, pitted
-
15 chocolate sandwich cookies, crushed
-
1 1/2 cups semi sweet chocolate chips
-
1/2 cup milk chocolate chips
-
4 teaspoons oil