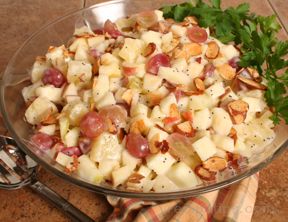 Directions
Prepare dressing by combining reserved pineapple juice, butter, sugar, and lemon juice in a small saucepan. Heat contents to boiling.
Using a small bowl, combine cornstarch with water to make a smooth paste. Add the paste to the boiled mixture in the saucepan and cook until all ingredients are thick and smooth.
Stir in poppyseeds, mayonnaise and yogurt into dressing ingredients, blending well. If desired, 1 cup of mayonnaise can be used instead of 1/2 cup of mayonnaise and 1/2 cup of yogurt.
Place in refrigerator and chill until contents become firm and set up. This dressing can be made well ahead of salad and kept until ready to add to fruit.
Prepare salad ingredients by chopping apples into small pieces. Slice grapes in half and then combine apples, pineapple chunks, grapes, and poppy seeds in large glass bowl.
Add chilled dressing to fruit ingredients and stir in well. Place in refrigerator to chill until ready to serve.
To keep crispy, add toasted almonds or pecans just prior to serving salad, stirring in well and placing some on top as garnish.
Prep Time: 30 minutes
Cook Time: 15 minutes
Servings: 16
Serving Size: cup


Ingredients
-
8 cups tart red apples, unpeeled and chopped
-
20 ounces can pineapple chunks, drained - reserve juice
-
2 cups seedless red grapes
-
2 teaspoons poppyseeds
-
1 1/2 cups toasted almonds or pecans
-
Dressing
-
7 ounces reserved pineapple juice (6 to 7 ounces)
-
1/4 cup butter
-
1/4 cup sugar
-
1 tablespoon lemon juice
-
2 tablespoons cornstarch
-
2 tablespoons water
-
1/2 cup light mayonnaise
-
1/2 cup plain yogurt (non-fat, low fat or regular fat)