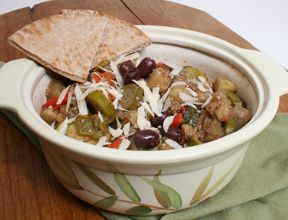 Directions
Place eggplant in colander, sprinkle with salt and let set 30 minutes to drain.
Roast peppers over grill or in over until blackened on all sides. Wrap in paper bag and let sit for 15 minutes. Peel, seed peppers, cut into 1/2 inch pieces.
Pat eggplant dry. Combine eggplant, zucchini, water, oil, garlic, and dried red pepper in medium saucepan. Bring to simmer over medium heat. Add tomatoes and cook until vegetables are almost tender, stirring occasionally, for about 15 minutes.
Stir in roasted red peppers and simmer until all vegetables are very tender and almost all liquid is evaporated (35-40 minutes).
Stir olives into vegetable mixture. Season with salt and pepper. Cool to room temperature (can be made two days ahead; chill). Bring to room temperature before serving. Serve with pita bread. Optional: Serve with shredded Parmesan or Asiago cheese to sprinkle on top.
Prep Time: 20 minutes
Cook Time: 45 minutes
Container: Large saucepan or fry pan
Servings: 6


Ingredients
-
1 pound eggplant, cut into 3/4 inch pieces, salt
-
1 red pepper
-
1 green pepper
-
2 medium zucchini or 3 small, cut into 3/4 inch pieces. (Don't need to peel)
-
1 cup water
-
1/4 cup olive oil
-
2 cloves garlic, crushed
-
1/2 teaspoon dried red pepper, crushed
-
2 large plum tomatoes
-
12 kalamata olives or other black , brine cured olived, pitted
-
salt and pepper
-
warm pita, cut into triangles
-
Optional: shredded parmesan or asiago cheese