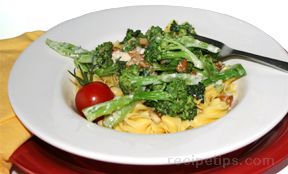 Directions
Put 2 quarts water with 2 teaspoons salt on to boil. Add pasta as soon as it boils and cook according to package directions.
While water heats, slice broccoli into long strips, peeling any thick stems. Heat oil and 1/2 cup water in skillet. When hot, add broccoli, cover and cook for 3 - 4 minutes.
Uncover, raise heat and cook till just barely tender. Remove from heat, salt and pepper lightly, add the walnuts, cheese and creammilk, and mix. Sprinkle marjoram over.
Drain pasta, put in serving dish or individual plates with broccoli on top. Serve immediately.
Prep Time: 10 minutes
Cook Time: 15 minutes
Servings: 2


Ingredients
-
4 ounces pasta, any short shape
-
8 ounces fresh broccoli (substitute frozen)
-
tablespoon olive oil
-
2 ounces blue cheese, crumbled or in chunks
-
2 tablespoons coarsely chopped walnuts
-
1/2 cup cream, milk or a mixture
-
1 tablespoon finely chopped marjoram, basil or parsley
-
salt