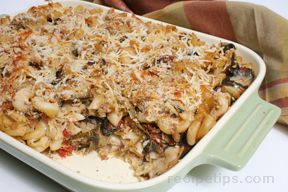 Directions
Preheat oven to 350° F.
Bring a large pot of salted water to a boil. Add pasta, cook until tender, but still firm, stirring occasionally. Drain pasta.
In a large skillet, heat olive oil over medium heat. Add mushrooms, onions, and garlic and cook until mushrooms are tender and onions are golden, approximately 7 minutes. Add tomatoes, spinach, and red pepper flakes. Stir to combine and cook until heated through, approximately 5 minutes.
In a small bowl, mix bread crumbs, 1/4 cup parmesean cheese and 1/4 cup romano cheese.
Spread softened butter in bottom of 9" x 13" baking dish. Sprinkle 1/2 of the bread crumb mixture on bottom of dish.
In a large bowl, combine vegetable mixture with cooked macaroni, cubed mozzarella, the remaining parmesean and romano cheeses, and nutmeg. Spoon into prepared dish. Top with remaining bread crumbs and dot with remaining butter.
Bake until golden brown, approximately 30-40 minutes.
Sprinkle with parmesean cheese (optional).
Prep Time: 20 minutes
Cook Time: 45 minutes
Container: 9x13 baking dish
Serving Size: 1 cup


Ingredients
-
1 tablespoon salt
-
1 pound pasta (elbow macaroni)
-
3 tablespoons olive oil
-
1/2 pound mushrooms, quartered
-
1 medium onion, chopped
-
1 can (14.5 oz) diced tomates with juice
-
1 package frozen spinach, thawed, drained, chopped
-
1/2 teaspoon red pepper flakes
-
1/2 cup bread crumbs
-
1/4 cup romano cheese, plus 1/3 cup
-
1/4 cup parmesan cheese, plus 1/3 cup
-
4 tablespoons butter
-
12 ounces mozzarella cheese (approximately 2 cups)
-
1/4 teaspoon nutmeg