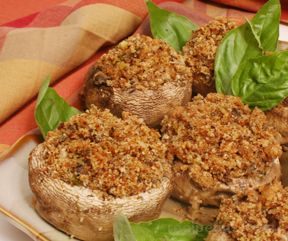 Directions
Wipe mushrooms with a damp cloth. Break off the stems and trim off the ends. Set caps aside. Finely chop the stems.
In a heavy skillet, heat olive oil, green onions, and mushroom stems. Sauté for 3 minutes, stirring well. Add bread crumbs, seitan, marjoram, garlic powder, and salt and pepper. Stir well and cook for 2 minutes.
Pack the filling in the cavities of the mushroom caps.
Brush a skillet lightly with oil and place the caps in the skillet, filled side up. Brown the caps for a minute or two, reduce heat, and add stock to the skillet. Cover and simmer for 20 minutes.
The caps can also be baked uncovered at 375° F. for 15-20 minutes.
Prep Time: 15 minutes
Cook Time: 20 minutes
Container: heavy skillet


Ingredients
-
2 tablespoons olive oil
-
2 green onions, finely chopped
-
1/2 cup bread crumbs
-
1/2 cup seitan
-
1 teaspoon marjoram
-
1/4 teaspoon garlic powder
-
salt and pepper to taste
-
1 1/2 pounds mushrooms - your favorite variety
-
1/2 cup chicken or vegetable stock (or broth)