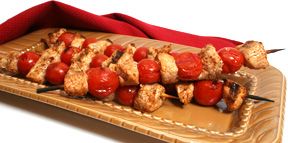 Directions
In a medium sized bowl, whisk all marinade ingredients together. Place pork into a large resealable plastic bag and pour marinade over it. Seal tightly, swirl pork and marinade together inside bag, and refrigerate for at least 1 hour.
Remove pork from the bag and discard the bag and marinade. Thread the pork and tomatoes onto the skewers, alternating the ingredients.
Grill over direct high heat for 6-8 minutes, turning once, until meat is just slightly pink.
Top with fresh squeezed lime juice and cilantro.
Serve immediately.
Prep Time: 20 minutes
Cook Time: 10 minutes
Servings: 4


Ingredients
-
Marinade
-
1/2 cup fresh orange juice
-
3 tablespoons extra virgin olive oil
-
2 tablespoons red wine vinegar
-
1 tablespoon garlic, minced
-
2 tablespoons pure chili powder
-
1 1/2 teaspoons dried oregano
-
1 teaspoon ground cumin
-
1 teaspoon kosher salt
-
1/2 teaspoon fresh ground pepper
-
1/2 teaspoon ground cinnamon
-
Pork Skewers
-
2 pounds boneless pork sirloins, cut into 1 inch cubes
-
1 pint cherry tomatoes
-
1 lime, cut into quarters
-
2 tablespoons cilantro, finely chopped