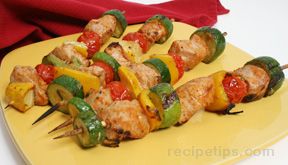 Directions
In a medium bowl, combine the garlic paste, the olive oil, mustard, and dry ingredients and mix until smooth. Add the pork to the bowl and stir to coat evenly.
Allow to stand for 10-15 minutes before grilling. While meat is marinating, soak skewers in water to discourage burning.
Heat grill.
Thread the pork and vegetables onto skewers, alternating ingredients. Any combination of vegetables can be used.
Grill over high heat until pork is barely pink, approximately 4-6 minutes.
Turn once during grilling.
Serve warm.
Prep Time: 20 minutes
Cook Time: 10 minutes
Servings: 4


Ingredients
-
2 tablespoons extra virgin olive oil
-
2 teaspoons Dijon mustard
-
1 teaspoon paprika
-
1/2 teaspoon granulated garlic
-
1/2 teaspoon light brown sugar
-
1/2 teaspoon kosher salt
-
1/4 teaspoon fresh ground pepper
-
1 1/4 pounds boneless pork sirloin, cut into 1 inch cubes
-
8 cherry tomatoes
-
1/2 small yellow squash, cut into 1/4 inch rounds
-
1/2 green zucchine, cut into 1/4 inch rounds