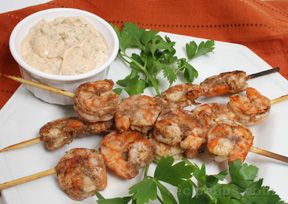 Directions
Sauce:
In a medium bowl, whisk sauce ingredients.
Refrigerate, up to 24 hours, until ready to use.
Shrimp:
Thread shrimp onto skewers through the head and tail to secure them properly. Lightly brush or spray shrimp with oil and season with salt and pepper.
Grill over direct high heat until shrimp are firm to touch and just turning opaque (2-4 minutes). Turn once during cooking.
Serve warm with sauce.
Ingredients
-
Sauce
-
1/2 cup mayonnaise
-
1 tablespoon capers, drained and chopped
-
1 tablespoon sweet pickle relish
-
1 tablespoon fresh tarragon, finely chopped
-
2 teaspoons shallots, minced
-
1 teaspoon tarragon vinegar
-
1 teaspoon garlic, minced
-
1/2 teaspoon Dijon mustard
-
1/4 teaspoon paprika
-
1/8 teaspoon kosher salt
-
Shrimp
-
40 large shrimp, approximately 2 pounds, peeled and deveined
-
olive oil
-
salt and pepper to taste