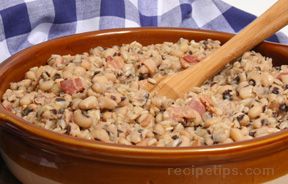 Directions
Check through the peas and remove any bad peas, dirt, or debris. Cover peas with 2 to 3 times their quantity of water and soak for 6 to 8 hours, or soak according to directions on package.
When peas are done soaking, rinse with cool water. Place the peas in a large pot, cover with 8 cups of water, and over high heat, bring the peas to a boil and then turn the heat down to a simmer. Skim foam as needed. Cover the peas and allow to simmer for 45 minutes to an hour. Peas should be tender, but not mushy.
While the peas are cooking, cut the bacon into 1/2 inch pieces and fry until crisp. Remove bacon and place on a paper towel to drain grease.
Pour off all the grease except for approximately 1 tablespoon. Add the onions to the bacon grease and saute for 4 or 5 minutes over medium heat. Cook only until soft and lightly browned. Set onions aside.
When peas are done, pour off cooking liquid. Reserve 2 1/2 cups of the liquid. Add the drained peas to the skillet with the sauteed onions. Pour in the reserved cooking liquid in with the peas and onions. Add the rice, thyme, pepper flakes, salt and pepper. Stir until all ingredients are evenly distributed.
Add the bacon to the pea mixture and stir well. Place over high heat and bring to a boil. Once it comes to a boil, turn the heat to low, and cover. Cook at a simmer for 30 to 45 minutes until the rice is tender.
Turn the heat off and allow the skillet to sit for 15 minutes, covered, to allow the liquids to be absorbed.
Remove the cover and serve while hot. Goes well with hot cornbread.
Prep Time: 1.5 hours
Cook Time: 2 hours
Servings: 6


Ingredients
-
2 cups black-eyed peas
-
1 pound bacon
-
2/3 cup finely chopped onions
-
1 cup brown rice
-
1/4 teaspoon dried thyme
-
3/4 teaspoon red pepper flakes
-
1 teaspoon salt
-
1/4 teaspoon pepper