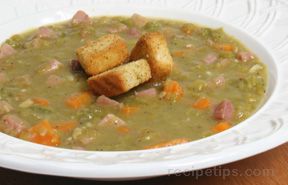 Directions
Go through split peas and pick out any dirt or debris. Split peas do not require soaking, but they can be soaked for several hours to reduce the amount of foaming while cooking.
Combine the split peas, water, and bay leaf in a soup pot or a saucepan large enough to accommodate the swelling of the peas and the rest of the ingredients. Bring the peas to a full boil over medium high heat. Skim the foam off the surface as it forms. Once peas are boiling, turn heat down to a simmer and cook for one hour. Stir occasionally to prevent peas from sticking. (If peas become drier than desired while cooking, add 1/4 to 1/2 cup of water. Stir into soup, and if still too dry, add a little more water.)
While peas are simmering, prepare onions, carrots, and celery.
Heat the oil in a medium skillet over medium high heat. When oil is hot add onions carrots and celery. Sauté vegetables until they begin to soften and onions are beginning to brown. Remove them from the skillet and set aside.
When soup has finished simmering remove the bay leaf and add sautéed vegetables. Then add all the remaining ingredients. Stir until everything is well distributed. Simmer uncovered for at least 30 minutes. Stir occasionally. If soup is too thick add a little water. If it is too thin, continue to simmer until reduced to desired consistency.
When soup is desired consistency, season to taste with salt and pepper. Serve while hot. Top with croutons, if desired.
Prep Time: 45 minutes
Cook Time: 1.5 hours
Servings: 4
Serving Size: 1 cup


Ingredients
-
1 cup split peas, uncooked
-
3 cups water, more if necessary
-
1/2 bay leaf
-
1 tablespoon vegetable oil
-
1/4 cup minced onion
-
1 cup carrots, chopped
-
1/2 cup celery, chopped
-
1/4 teaspoon thyme
-
1/2 teaspoon salt
-
1/4 teaspoon pepper
-
1/2 teaspoon garlic powder
-
2 cups diced ham