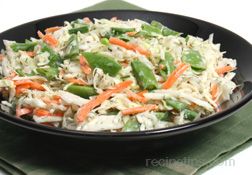 Directions
Rinse the sugar snap peas and then snap the stem end off the pods. Cut the pods diagonally into small pieces.
If using head cabbage, cut into thin slices. Place cabbage and peas into a large bowl for mixing. Toss the sugar snap peas and cabbage together until evenly distributed.
In a smaller bowl, add the buttermilk (shake before adding), sour cream, dill, garlic, sugar, vinegar, salt, and pepper. Whisk until all ingredients are well blended.
Pour the dressing over the peas and cabbage and stir until well coated.
Pour the cole slaw into a smaller bowl and cover with plastic or place in an airtight container. Refrigerate until well chilled. Approximately 2 hours.
When thoroughly chilled, the cole slaw is ready to serve.
Prep Time: 45 minutes
Servings: 6


Ingredients
-
2 cups diagonally sliced sugar snap peas (8 oz. of whole peas)
-
7 cups thinly slice cabbage (or 1 lb. bag of preshredded)
-
6 tablespoons buttermilk
-
1/4 cup sour cream
-
2 tablespoons chopped fresh dill (or 2 tsp. dried)
-
1 clove garlic, minced
-
1/2 tablespoon sugar
-
1/2 tablespoon white vinegar
-
1 teaspoon salt
-
1/4 teaspoon pepper