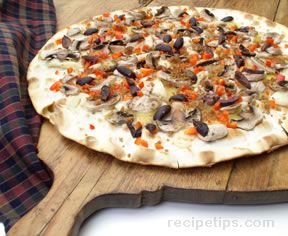 Directions
Preheat oven broiler.
Prepare sliced pieces of sweet bell pepper, onion, olives, mushrooms, and cheese as toppings for the lavosh.
Place lavosh on baking sheet and brush surface of lavosh with olive oil. Add ingredients randomly spaced over the surface of the lavosh, placing the pieces of cheese on last. If desired,vegetables may be sauteed first instead of placing on lavosh as fresh vegetables and melting cheese. Season to taste with salt and pepper as desired.
Place lavosh into the oven on a rack that is positioned in the middle.
Remove lavosh when cheese has lightly melted over other ingredients. Any good melting cheese can be substituted, selecting a flavor of choice.
Serve whole so pieces can be broken off as desired.
Prep Time: 15 minutes
Cook Time: 5 minutes
Servings: 12
Serving Size: 1 piece


Ingredients
-
hard lavosh bread - 12 to 14 inch round
-
3 tablespoons olive oil
-
1/2 cup kalamata olives, pitted
-
1 1/2 cups mushrooms, sliced
-
red bell pepper, sliced
-
red onion, chopped fine
-
8 ounces cheddar cheese or any flavor of choice, sliced
-
salt and pepper to taste