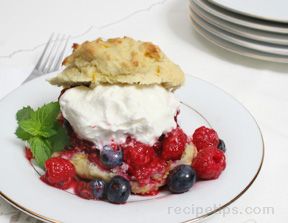 Directions
Biscuits:
Put oven rack in middle position and preheat oven to 450° F.
Whisk together flour, baking powder, baking soda, salt, and sugar in a large bowl. Blend in butter with fingertips until mixture resembles coarse meal.
Add buttermilk and stir just until a soft, sticky dough forms. Add lemon zest.
Drop dough in 6 mounds approximately 2 inches apart on ungreased baking sheet.
Bake until golden brown, approximately 12-13 minutes.
Transfer biscuits to a rack and cool to warm.
Filling:
While biscuits bake, gently mash half of the berries with 2 tablespoons sugar in bowl, then stir in the rest of the berries.
Cream:
Beat cream together with sugar in a large bowl with an electric mixer until it holds soft peaks.
Carefully cut biscuits in half horizontally and arrange one bottom half, split side up, on each of six plates.
Top each with berries, whipped cream, the other half of the biscuit and serve.
Prep Time: 20 minutes
Cook Time: 10 minutes
Servings: 6


Ingredients
-
Biscuits:
-
2 cups flour
-
2 teaspoons baking powder
-
1/2 teaspoon baking soda
-
1/2 teaspoon salt
-
2 tablespoons sugar
-
5 tablespoons cold, unsalted butter, cut into bits
-
1 cup well shaken buttermilk
-
Filling:
-
12 ounces raspberries (approximately 3 cups)
-
6 ounces blackberries or blueberries (approximately 1 1/2 cups)
-
2 tablespoons sugar
-
Cream:
-
1 cup well chilled heavy cream
-
1 tablespoon sugar