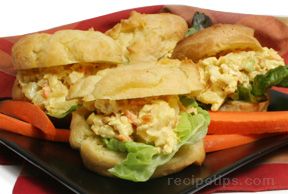 Directions
Poach or grill 3 chicken breasts (or use canned, diced chicken equal to 3 cups).
Cut chicken into bite-size chunks, chop celery, and shred the carrots. Mix those ingredients with the pineapple tidbits.
Whisk mayo, sour cream, curry powder, lemon juice, and salt together in a small bowl. Pour over chicken mixture. Chill.
When ready to serve, add slivered almonds.
Place lettuce leaves on individual plates, pile chicken salad on top, or serve chicken salad in creme puffs.
Prep Time: 15 minutes
Cook Time: 15 minutes


Ingredients
-
1/4 cup slivered almonds--slightly toasted
-
3 cups chopped chicken
-
16 ounces pineapple tidbits (drained)
-
1 cup chopped celery
-
1/2 cup shredded carrot
-
1/2 cup mayonaise
-
1/4 cup sour cream
-
2 teaspoons curry, adjust to taste
-
1 teaspoon lemon juice
-
3/4 teaspoon salt
-
salad greens