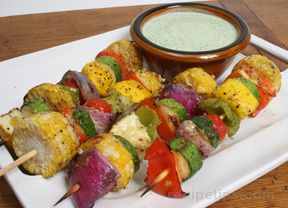 Directions
Soak 12 wooden skewers in water for one hour.
For Cilantro Sauce:
In food processor, combine cilantro, parsley, scallions, garlic, and lime juice. Puree until finely chopped. Add yogurt and sour cream and puree until smooth. Season to taste with salt and pepper.
For Skewered Vegetables:
Preheat grill or grill pan.
In a small bowl, stir together olive oil, garlic, and ginger root.
Arrange vegetables on 12 skewers and baste with the oil mixture. Season with salt and pepper.
Grill vegetables, basting occasionally, until browned and tender. (Approximately 10-12 minutes.)
Serve with cilantro sauce.
Prep Time: 15 minutes
Cook Time: 10 minutes


Ingredients
-
Cilantro Sauce
-
1 cup packed cilantro leaves, approximately 1 bunch
-
1/2 cup packed parsley leaves
-
1/3 cup chopped scallions
-
1 clove garlic
-
2 teaspoons lime juice
-
1/2 cup plain yogurt
-
1/2 cup sour cream
-
salt and pepper to taste
-
Grilled Vegetables
-
4 tablespoons olive oil
-
1 clove garlic, finely minced
-
1 tablespoon fresh grated ginger root
-
1 package cherry tomatoes
-
2 small zucchini--cut into 1/2
-
1 red onion, quartered and separated into 3 layer pieces
-
2 ears of fresh sweet corn, cut into 1/2
-
1 1/2 baby pattypan squash, seeded and cubed
-
salt and pepper to taste