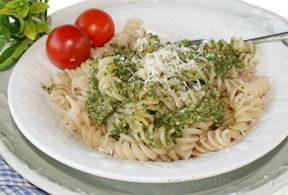 Directions
Pesto can be made ahead and refrigerated or frozen; bring to room temperature before serving.
If making pesto and pasta at the same time, put pasta water on to boil.
Put all ingredients into food processor and pulse until roughly puréed. Taste for seasoning, add salt, if needed.
When ready to serve, stir in about 1/4 cup very hot water (using the pasta cooking water is traditional) to thin the pesto to a good serving consistency--that little bit of heat also intensifies the flavors.
Container: food processor preferable
Servings: 4


Ingredients
-
1 cup basil leaves, loosely packed
-
1 cup parsley leaves, loosely packed
-
1/2 cup mint leaves, loosely packed
-
1/4 cup marjoram or oregano leaves, loosely packed
-
1 tablespoon finely chopped rosemary leaves
-
1 tablespoon finely chopped tarragon leaves
-
1/2 cup coarsely chopped walnuts
-
2 tablespoons lemon juice
-
1/4 cup grated Parmesan cheese, plus more to serve with pesto, if desired
-
2 cloves garlic, sliced, or more, if desired
-
1/2 cup olive oil