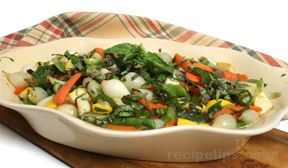 Directions
In large, heavy skillet, heat 2 tablespoons butter. Add the morels or mushroom of choice, halved. Sauté until tender, approximately 5 minutes. Add one clove minced garlic and sauté one minute. Add baby carrots, pearl onions, one cup chicken broth, two sprigs thyme and one bay leaf. Simmer 5-7 minutes, until tender. (A little less time if you prefer crisp, tender vegetables).
Add squash and peas. Simmer three more minutes. Swirl in 2 tablespoons butter.
Remove from heat. Add parsley and basil. Drizzle with truffle oil.
Discard bay leaf and season with salt and pepper to taste.
Prep Time: 10 minutes
Cook Time: 10 minutes
Servings: 6


Ingredients
-
1/4 cup unsalted butter
-
1/4 pound baby pattypan squash, trimmed, and cubed. Do not peel.
-
1/4 pound baby carrots, cut into matchsticks.
-
1/2 cup shelled fresh peas, snap peas, or pea pods
-
1/4 pound pearl onions, blanched in boiling water 1-3 minutes, peeled and trimmed
-
2 thyme sprigs
-
1 bay leaf
-
1 cup chicken broth
-
1/4 pound fresh morels, washed, or any mushroom of choice
-
3 tablespoons fresh parsley, minced
-
1 tablespoon fresh basil, minced
-
1 clove garlic, minced
-
2 teaspoons truffle oil or olive oil
-
salt and pepper to taste