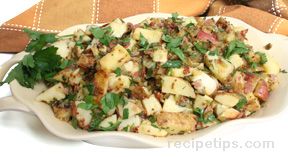 Directions
Heat grill to medium high heat.
Cut proscuitto crosswise into 1/2 inch strips.
Arrange in a single layer in an aluminum pan.
Place pan on grill and cook for approximately 5 minutes or until crisp.
Set aside.
Place potatoes in an aluminum pan, drizzle with olive oil and sprinkle with salt and pepper.
Grill for approximately 20-30 minutes, stirring occasionally until tender.
Remove from pan and place in a large serving bowl.
Heat 1 tablespoon olive oil in a small skillet.
Add shallots and cook for 2-3 minutes, stirring frequently.
Add remaining olive oil, cornichons, mustard and vinegar.
Season with salt and pepper.
Add to potatoes along with proscuitto and parsley.
Toss, season with salt and pepper to taste and serve.
Prep Time: 30 minutes
Cook Time: 45 minutes
Servings: 6


Ingredients
-
4 slices proscuitto
-
2 pounds small red potatoes, cut into 3/4 inch cubes
-
1/4 cup plus 3 tablespoons extra virgin olive oil
-
2 medium shallots, chopped fine
-
1/2 cup cornichons or gherkins, diced small
-
3 tablespoons Dijon mustard
-
2 tablespoons white wine vinegar
-
3 tablespoons fresh parsley, chopped
-
kosher salt and fresh ground pepper to taste