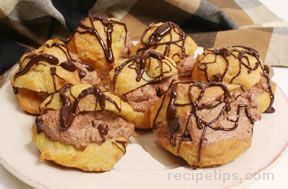 Directions
To Make Chocolate Cream:
In a medium sized bowl, beat the cream with an electric mixer or whisk until it begins to hold a loose peak. Sift the sugar into the cream. Continue beating until the cream holds a firm but soft peak. Set aside in refrigerator.
Place the chocolate in a medium sized, microwaveable bowl. Melt the chocolate in microwave, at half power, using 30 second intervals until softened and warm (the chocolate can also be melted in a double boiler, if desired). Whisk until smooth.
Fold approximately 1/2 cup of whipped cream into the warm chocolate to lighten it. Add lightened chocolate mixture back into the remaining whipped cream, folding until completely smooth.
Store in an airtight container until ready to use.

To Make Puff Pastry:

Preheat oven to 400º F.
Boil water and butter in a small sauce pan. Add flour and stir briskly over low flame until a ball forms.
Remove mixture from heat and beat in eggs, with a wooden spoon, one at a time in order to keep batter smooth. Continue to beat with wooden spoon until smooth.
With a table spoon, drop dough onto ungreased pan 3-inches apart.
Bake 40 to 45 minutes until lightly browned in order to open up the inner texture. Cooking for less time results in a sticky inner dough and more of a closed texture. Remove from oven, set aside to cool.
When cool, cut pastries almost in half leaving approximately 1/4 inch attached to hold the pastry together.
Fill the center with chocolate whipped cream as you would a sandwich. Can drizzle with extra melted chocolate, if desired.
Servings: 36
Serving Size: 1 each


Ingredients
-
Chocolate Whipped Cream Ingredients:
-
2 cups heavy cream
-
2 tablespoons powdered sugar
-
4 ounces semi-sweet chocolate, broken up into small pieces.
-
Puff Pastry Ingredients:
-
2 cups water
-
2 sticks butter
-
2 cups flour
-
8 eggs