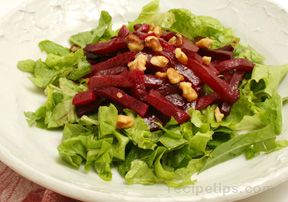 Directions
If beets have their leafy greens attached, trim off about 1 inch above the beet. (See Braised Beet Greens recipe for a tasty way to use the tops.) Cut off any long roots. Coat lightly with oil, put in microwavable dish-- don't crowd--and cover.
Microwave on high for 10 minutes, or until beets are easily pierced with a small sharp knife. If beets are uneven in size, you may need to remove smaller ones as they finish and return larger ones for another minute or two of cooking. Uncover and set aside until cool enough to handle.
Rub skins off (this is easiest, if they are still warm), slice beets, and cut slices into strips. Serve warm or chilled, over a bed of chopped or torn lettuce. Dress with vinaigrette and top with walnuts.
Prep Time: 10 minutes
Cook Time: 10 minutes
Container: microwavable dish with cover
Servings: 4


Ingredients
-
4 medium beets
-
1 tablespoon olive oil
-
8 cups lettuce or other tender greens
-
1/2 cup bottled vinaigrette, or see recipe for Basic Vinaigrette
-
1/4 cup coarsely chopped walnuts