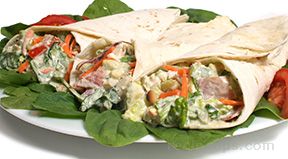 Directions
WRAP:
Preheat grill or grill pan.
Season chicken breasts on both sides with salt, pepper and a drizzle of olive oil.
Grill 4-5 minutes on each side or until cooked through. Set aside and allow to cool and then cut into bite sized pieces.
Halve, pit, peel, and cut avocado into 1/2" pieces. Sprinkle with lemon juice so that the avocados do not brown.
In a large salad bowl, toss together romaine, corn, watercress or spinach. Add chicken, ham, tomatoes, eggs, and avocado.
Pour as much grilled onion blue cheese dressing over salad as needed (you may not need to use entire batch). Toss well.
Divide over tortillas and fold or roll up to make a sandwich wrap.
DRESSING:
Peel onion. Place whole onion on a square of aluminum foil.
Pour olive oil over the onion and salt and pepper to taste.
Seal the foil and grill onion over medium heat for approximately 30 minutes. Check occasionally.
Allow the oninon to cool and then dice.
Mix all the dressing ingredients together.
Prep Time: 45 minutes
Cook Time: 10 minutes


Ingredients
-
WRAP:
-
2 whole skinless, boneless chicken breasts
-
salt and pepper to taste
-
1 tablespoon olive oil
-
2 ripe avocados
-
1/2 head romaine lettuce, chopped
-
2 ears sweet corn, grilled
-
1 bunch watercress or spinach
-
6 slices prosciutto, ham or bacon
-
2 tomatoes, chopped
-
3 hard boiled eggs, chopped
-
4 large tortillas
-
DRESSING:
-
1 sweet onion
-
2 tablespoons olive oil
-
salt and pepper to taste
-
2 cups mayonnaise
-
1 cup sour cream
-
1 cup buttermilk
-
2 teaspoons hot sauce or more to taste
-
1/2 teaspoon Worcestershire sauce
-
3 ounces blue cheese