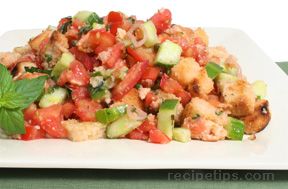 Directions
Heat grill to medium heat.
Brush bread with 1/4 cup olive oil and 1/4 teaspoon of kosher salt and a few grinds of pepper. Grill bread on both sides, watching closely, until nicely browned.
When bread is cool enough to handle, cut into 1/2 inch cubes.
In a small bowl, soak the shallots in the vinegar for 10 minutes. With a slotted spoon, transfer the shallots to a large bowl, reserving the vinegar.
Sprinkle the garlic with 1/4 teaspoon kosher salt and mash into paste with the side of a chef's knife. Whisk the mashed garlic, the remaining 1/4 cup olive oil, 1/4 teaspoon kosher salt and 1/8 teaspoon pepper into the reserved vinegar. Toss the bread cubes, tomatoes, cucumber, basil, mint, capers, and vinaigrette in the bowl with shallots.
Season the panzanella to taste with salt and pepper and serve.
Prep Time: 20 minutes
Cook Time: 5 minutes
Container: Large Salad Bowl


Ingredients
-
4 slices 1/2 inch thick sourdough bread
-
1/2 cup extra virgin olive oil
-
kosher salt and black pepper
-
1 small shallot
-
3 tablespoons red wine vinegar
-
1 clove garlic, coarsely chopped
-
1 1/2 pounds ripe, meaty tomatoes, cut into 1/2 cubes (1 1/2 cups)
-
1 small English cucumber, cut into 1/2 cubes (1 1/2 cups)
-
3 tablespoons fresh basil, chopped
-
3 tablespoons fresh mint, chopped
-
2 tablespoons capers, drained, rinsed