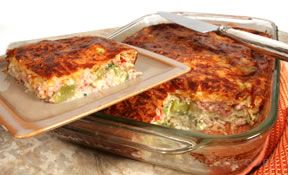 Directions
Preheat oven to 350°F.
Place onions and mushroons in a skillet and sauté on medium heat.
Coat baking dish with vegetable spray. Layer ham, onions, broccoli, pimentos, and cheese in the bottom of prepared baking dish. Combine eggs, milk, and baking mix until smooth. Pour over top of ham mixture.
Bake for 50 to 60 minutes or until middle is set. The baking dish or casserole may need to be covered with foil for the last 15 minutes, if it is beginning to brown more than desired.
Serve warm or cold.
Prep Time: 20 minutes
Cook Time: 1 hour
Container: 9 x 13 baking dish or a 2 quart casserole dish
Servings: 12
Serving Size: 1 cup


Ingredients
-
8 ounces chopped ham
-
1 large onion, minced
-
4 ounces canned mushrooms, drained
-
1/2 teaspoon salt, or to taste
-
2 cups shredded cheese of choice--cheddar, swiss, mozzerella, or pepperjack
-
16 ounces frozen broccoli
-
1 1/2 cups reduced fat baking mix
-
3 cups milk
-
6 eggs
-
2 ounces pimentos, chopped (optional)