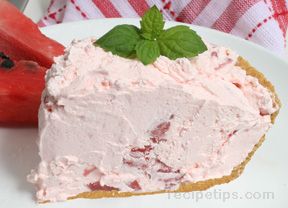 Directions
In a medium sized bowl, combine crumbs, margarine, and sugar. Press mixture firmly into a 9-inch pie plate. Chill for one hour or until the crust is firm.
Meanwhile, prepare filling. Combine whipped topping, watermelon gelatin powder, and water. Fold in watermelon balls. Spoon into pie crust.
Chill two hours before serving.
Prep Time: 20 minutes
Cook Time: 0 minutes
Servings: 8


Ingredients
-
CRUST INGREDIENTS
-
1 1/2 cups low fat graham cracker crumbs
-
1/4 cup light margarine, melted
-
3 tablespoons granulated sugar
-
FILLING INGREDIENTS
-
12 ounces fat free cool whip
-
3 ounces watermelon gelatin powder
-
1/4 cup water
-
2 cups watermelon balls