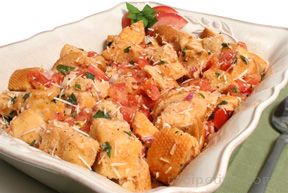 Directions
Preheat oven to 375°.
Remove crusts from bread and cut into 1/2 inch cubes.
Melt butter in a large skillet until it foams. Add garlic, cook until fragrant (30 seconds to 1 minute). Add bread cubes and toss to coat with butter. Season with salt and pepper to taste and place on a baking sheet; toast in oven until crispy (5-10 minutes).
While croutons are toasting, mix all other ingredients, except for cheese, in a large bowl. Add croutons, toss. Add parmesean cheese and stir. Sprinkle more cheese on top, if desired.
Can be served on a platter or with large lettuce leaves on individual salad plates.
Prep Time: 25 minutes
Cook Time: 10 minutes


Ingredients
-
CROUTON INGREDIENTS
-
1/2 cup unsalted butter
-
1 tablespoon garlic, minced
-
6 cups day old bread--preferably a French or Italian loaf
-
salt and pepper to taste
-
SALAD INGREDIENTS
-
2 pounds tomatoes, diced
-
1/4 cup red onion, minced
-
2 teaspoons garlic, minced
-
1/2 cup olive oil
-
2 tablespoons lemon juice
-
2 tablespoons fresh basil leaves, chopped
-
1 tablespoon fresh tarragon leaves, chopped
-
1 teaspoon kosher salt
-
fresh ground black pepper to taste
-
1/2 cup parmesan cheese