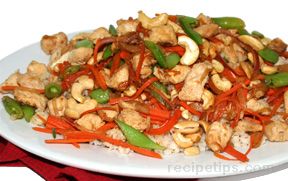 Directions
Start the rice: in a saucepan, combine rice, 3 cups water, and 1 teaspoon salt. Bring to a boil, reduce heat to maintain a simmer, and cook, lid ajar, until rice is tender and water absorbed, about 20-25 minutes. (Add 15-20 minutes, if using brown rice.)
While rice cooks, prepare remaining ingredients. Cut chicken into cubes, about 1/2 inch. Mix sherry and cornstarch, add diced chicken, and stir to blend. Set aside.
Cut carrots into matchsticks or very thin slices. Remove any strings from peas (leave in pods) and cut pods into thirds. Slice garlic and onion thinly; separate onion slices into rings. Mince ginger.
In wok or large skillet, heat the oil over medium heat. When hot, add ginger, garlic and onion. Cook, stirring, about 30 seconds. Raise heat, add chicken and its liquid and let cook for a minute or two before stirring to turn pieces over. Add carrots, peas, and soy sauce. Cook, stirring, until carrots are still a bit crunchy, a few minutes. Stir in the cashews and empty wok into a serving dish. Return pan to heat and add 1/2 cup water, stirring to dissolve any browned bits in pan. Pour over chicken.
Serve over rice.
Prep Time: 10 minutes
Cook Time: 30 minutes
Container: wok or large skillet
Servings: 4


Ingredients
-
1 1/2 cups uncooked rice
-
1 pound boneless, skinless chicken breast
-
2 teaspoons cornstarch
-
2 tablespoons sherry, rice wine, dry white wine, or broth
-
2 carrots
-
1/2 pound edible-podded peas (snow peas or sugar snaps)
-
1 onion
-
2 cloves garlic, or more, if preferred
-
1 tablespoon minced fresh ginger (substitute 1 teaspoon dried)
-
3 tablespoons canola or other neutral oil
-
1/2 cup cashews or peanuts
-
3 tablespoons soy sauce
-
salt