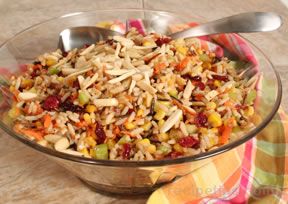 Directions
Cook rice according to directions and omit seasonings if included within the package of the rice blend. Cook and set aside to cool.
Empty corn into a colander over the sink, pouring 2 to 3 cups of boiling water over the corn. Drain thoroughly and cool. Combine corn, rice, celery, carrots, cranberries, onion, and nuts in large serving bowl.
In a small bowl, whisk together dressing ingredients and season to taste. Pour dressing over salad and mix well. Cover and chill for a few hours before serving.
Garnish with almonds or sunflower seeds, adding more if desired.
Prep Time: 15 minutes
Cook Time: 30 minutes
Container: Large serving bowl
Servings: 10
Serving Size: 1 cup


Ingredients
-
1 1/2 cups wild rice blend (white & wild) 2 - 6 oz pkgs
-
2 cups corn, frozen niblets
-
3 stalks celery, finely chopped
-
1 cup carrots, shredded
-
1 cup dried cranberries
-
1/2 cup slivered almonds or sunflower seeds
-
1/2 cup red onion, finely chopped
-
Salad Dressing
-
1/2 cup raspberry vinegar
-
2 tablespoons olive oil or canola oil
-
1 1/2 tablespoons soy sauce
-
1 tablespoon orange rind, grated (rind of 1 orange)
-
1/2 teaspoon black pepper, or to taste
-
salt - season to taste