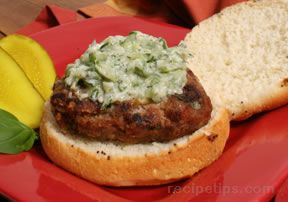 Directions
To prepare burgers:
In a large bowl, combine all of the burger ingredients until incorporated. Do not over mix. Pat mixture into 8 burgers of the same size.
Cover and refrigerate until ready to grill.

To prepare relish:
If using regular cucumbers, seed them before grating. English cucumbers are naturally seeded, so you can skip that stage. Coarsely grate cucumber. Place cucumber into a sieve and squeeze out all excess moisture.
Mix cucumber and remaining relish ingredients together in a medium bowl and refrigerate until ready to use.
Spray or brush burgers with oil on both sides and grill on medium heat. Grill approximately 7 minutes, or until cooked through, turning once.
Serve immediately with relish spooned on top.
Prep Time: 20 minutes
Cook Time: 10 minutes
Servings: 8


Ingredients
-
BURGERS
-
1 1/4 pounds ground turkey
-
1/2 cup bread crumbs
-
4 green onions, minced
-
2 tablespoons fresh basil, finely chopped
-
2 tablespoons fresh lime juice
-
1 tablespoon soy sauce
-
2 teaspoons garlic, minced
-
1/4 teaspoon chili powder
-
1/4 teaspoon kosher salt
-
1/4 teaspoon fresh ground black pepper
-
RELISH
-
1 1/2 cups grated English cucumber
-
2 tablespoons sour cream
-
1 tablespoon fresh dill, finely chopped
-
1 teaspoon jalapeno, minced
-
1/2 teaspoon garlic, minced
-
1/4 teaspoon kosher salt
-
1/8 teaspoon fresh ground black pepper