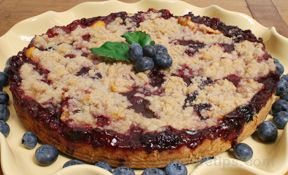 Directions
CRUST:
Preheat oven to 350° F.
Place flour, sugar, and baking powder in a medium sized bowl. Add butter and mix until crumbly. Add egg and almond extract. Combine until the dough will form into a ball.
With floured hands, press into the bottom of pie pan and partially up the sides of a greased tart pan or pie plate.
FILLING:
Wash blueberries and pat dry. Peel, pit, and slice peaches. Combine fruit, lemon juice, and sugar together in a small bowl.
Pour over crust in pan.
TOPPING:
In a medium bowl, combine flour, sugar, cinnamon, nutmeg, and butter until crumbly.
Sprinkle over tart and bake for 35-40 minutes or until golden brown.
Allow to cool before serving.
Prep Time: 30 minutes
Cook Time: 45 minutes
Container: Tart Pan or Pie Plate
Servings: 10


Ingredients
-
CRUST:
-
1 cup flour
-
3 tablespoons sugar
-
1/4 teaspoon baking powder
-
1/4 cup cold butter or margarine
-
1 egg
-
1/2 teaspoon almond extract
-
FRUIT FILLING:
-
3 cups fresh blueberries and peaches combined
-
1 tablespoon lemon juice
-
2 tablespoons sugar (optional)
-
TOPPING:
-
1/2 cup flour
-
1/2 cup sugar
-
1/8 teaspoon cinnamon
-
1/8 teaspoon nutmeg
-
6 tablespoons butter or margarine