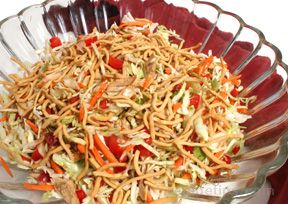 Directions
In a medium bowl, whisk vinegar, 3 tablespoons of soy sauce, hoisin sauce, ginger, and sesame oil together.
Place chicken in a single layer into a roasting pan. Pour 1/2 cup of the vinegar mixture over chicken; reserve remaining vinegar to use as a dressing. Add remaining 1/2 cup soy sauce and 3 cups of water to the roaster. Bring to a boil over medium high heat on stove top. Cover, reduce heat and simmer chicken until done. (Approximately 10 minutes)
Transfer chicken to a plate and refrigerate until cool.
Shred chicken and place in a large salad bowl. Add 2 tablespoons of dressing, salt and pepper, and toss. Add cabbage, bell pepper, scallions, and remaining dressing and toss. Sprinkle with chow mein noodles.
Prep Time: 20 minutes
Cook Time: 15 minutes
Servings: 6


Ingredients
-
1/2 cup rice vinegar
-
1/3 cup plus 3 tablespoons soy sauce
-
1/2 cup hoisin sauce
-
1 1/2 tablespoons grated fresh ginger
-
1/4 cup toasted sesame oil
-
1 1/2 pounds boneless, skinless chicken breasts
-
salt and pepper to taste
-
1/2 head Napa cabbage, shredded
-
1 large red bell pepper, thinly sliced
-
1 bunch scallions
-
1 cup chow mein noodles