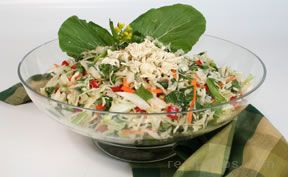 Directions
In a large bowl, combine the coleslaw, onions, raisins, sunflower seeds, broccoli, and Ramen noodles. Mix all ingredients together.
In a separate small bowl or jar, combine the Ramen noodle seasoning, canola oil, red wine vinegar, and sugar to make the dressing.
If the dressing is made before serving, mix all the ingredients thoroughly and set aside in refrigerator until ready to serve. If made just prior to serving, mix the dressing ingredients, toss with salad, and serve.
Prep Time: 20 minutes
Cook Time: 0 minutes
Container: Large bowl
Servings: 10
Serving Size: 1 cup


Ingredients
-
16 ounces package of classic coleslaw mix
-
4 green onions, finely cut
-
1 cup golden raisins
-
6 ounces sunflower seeds
-
2 cups broccoli, chopped coarsely
-
3 ounces package of Ramen noodles (chicken flavored)
-
1/2 cup sweet red pepper, chopped (optional)
-
Dressing:
-
1 package Ramen noodle seasoning
-
1/2 cup canola oil
-
3 tablespoons red wine vinegar
-
3 tablespoons sugar