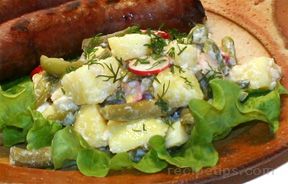 Directions
Whisk together yogurt and horseradish, add salt and pepper to taste. Set aside to let flavors blend
Scrub or peel potatoes and cut into about 1 inch chunks. Put in saucepan, cover with water, add 1 teaspoon salt and bring to a boil. Reduce heat and simmer until just tender, about 10 minutes.
While potatoes cook, cut beans into 1 to 2 inch lengths. Slice celery and onion thinly. Slice radishes. When potaoes are tender, lift out of water with a slotted spoon or skimmer and drain. Add beans to potato water, return to a boil and cook until beans are crunchy-tender, about 5 minutes. Drain
Gently mix together potatoes, beans, celery, onion, and half the radishes. Mix in the sauce. Chill if you prefer, although it's also good at room temperature. Put into serving bowl or arrange, using lettuce leaves, if desired, on individual serving plates. Top with chopped herbs and reserved radishes.
Prep Time: 25 minutes
Cook Time: 20 minutes
Servings: 4


Ingredients
-
1 cup plain yogurt
-
1/3 cup bottled horseradish, or to taste
-
salt and pepper
-
1 pound red potatoes
-
1/2 pound green beans, fresh or frozen (use more, if preferred)
-
1 small onion
-
2 stalks celery
-
1 bunch radishes
-
1 tablespoon fresh herbs, chopped (dill, parsley, or a mixture)
-
lettuce leaves, for serving (optional)