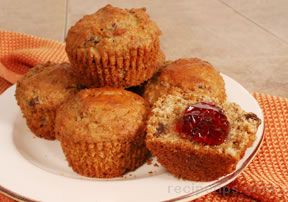 Directions
Preheat oven to 400º F. Spray muffin tin with non-stick vegetable oil or line with muffin liners.
In a medium size bowl, combine flour, sugar, salt, and baking powder. Set aside.
In a large bowl, combine milk and cereal. Allow mixture to stand until milk is absorbed into cereal, approximately 5 minutes. Add oil, egg, vanilla, raisins, and orange peel to cereal mixture and stir to combine well.
Add flour mixture to cereal mixture and stir just until combined. Divide evenly into prepared muffin tray.
Bake 20 minutes.
Remove from oven and allow to cool for 5 minutes and then remove muffins from the tin and place on wire cooling rack.
Prep Time: 15 minutes
Cook Time: 20 minutes
Container: 12 cup muffin tin, muffin liners optional
Servings: 12
Serving Size: 1 each


Ingredients
-
1 1/4 cups all purpose flour (or combination of whole wheat and white)
-
1/2 cup sugar (may decrease to 1/3 cup)
-
1/2 teaspoon salt
-
1 tablespoon baking powder
-
2 cups All -Bran Cereal
-
1 1/4 cups fat free milk
-
1 egg (or 2 egg whites)
-
1/4 cup canola oil
-
1 teaspoon vanilla
-
1 teaspoon orange peel (optional)
-
1/2 cup raisins (optional)