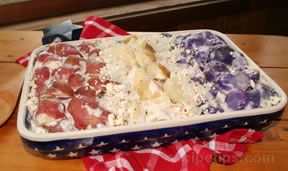 Directions
Make dressing ahead of time and allow to chill. Whisk together onions, yogurt, mayonnaise, vinegar, mustard, sugar, salt, and pepper. Cover and refrigerate.
Place potatoes into a large kettle. Fill kettle with water to cover potatoes. Add 1 teaspoon salt to kettle and bring to a boil. Cook potatoes until just tender, approximately 15 minutes. Drain.
Peel skins from blue potatoes only. Allow all potatoes to cool and cut into bite size pieces.
Arrange all red potatoes at one end of the salad dish, white potatoes in the center, and blue potatoes on the opposite end of serving dish. Toss dressing over potatoes carefully. Garnish with feta cheese.
Cover and chill 2 to 3 hours before serving.
Prep Time: 30 minutes
Cook Time: 15 minutes
Container: 2 quart serving dish
Servings: 12
Serving Size: cup


Ingredients
-
3 bunches green onions, divided
-
1 cup non-fat plain yogurt
-
1/2 cup light mayonnaise
-
1/4 cup champagne vinegar or white wine
-
1 tablespoon Dijon mustard
-
2 teaspoons sugar
-
1 teaspoon salt
-
3/4 teaspoon coarse ground black pepper
-
1 1/4 pounds blue potatoes, unpeeled
-
1 1/4 pounds small new red potatoes, unpeeled
-
1 1/4 pounds small white potatoes, unpeeled
-
1 cup feta cheese, crumbled