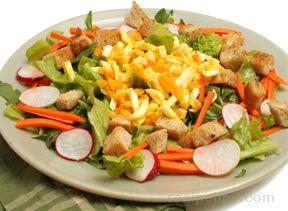 Directions
To make the croutons, cut bread, preferably slightly dry, into cubes (about 3/4 inch). In a large skillet, heat butter or oil on low heat. Stir in herbs and add bread cubes, stirring to coat with herb mixture. Leave on low and cook, stirring occasionally, until cubes are browned a bit, about 10 minutes.
To hard cook the eggs, arrange them in a single layer in a saucepan just large enough to hold them. Cover to a depth of an inch or two with cold water and bring to a full boil. Remove from heat, cover, and let stand 15 minutes. Drain, tap lightly to crack shell on one end, and cover with cold water. When cool enough to handle, peel, slice or chop, and refrigerate.
To assemble the salad, wash and dry the greens. Dress with about 1/4 cup of vinaigrette and divide among 4 plates. Arrange the vegetables and croutons attractively over the greens, leaving the center clear for a mound of chopped egg. Lightly salt and pepper the eggs. Serve with additional vinaigrette to be added as desired.
Prep Time: 30 minutes
Servings: 4


Ingredients
-
2 cups bread cubes
-
3 tablespoons butter, olive oil, or a mixture
-
2 tablespoons chopped herbs, preferably a mixture (parsley, dill, tarragon, or as preferred)
-
6 eggs
-
2 quarts mixed salad greens
-
2 cups cut up assorted fresh vegetables
-
1/2 cup vinaigrette, or more, bottled or homemade
-
salt and pepper